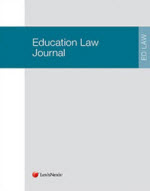 Education Law Journal (Archive)
This content is unique to LexisNexis
Journal
Education Law Journal
provides an up-to-date, authoritative source of information on all the latest developments in education law. Written by the country's leading education lawyers, judges and academics, it keeps busy practitioners, local authorities, tribunal judges and academics reliably informed. Each issue contains articles and case reports on the issues that matter, including:
Special educational needs


School admissions


Exclusion


Employment in schools


Higher and further education


Human rights and education


Dispute resolution


International perspectives
The journal also includes summaries of, and expert commentary, on the latest Local Government Ombudsman reports and Statutory Instruments affecting education law.