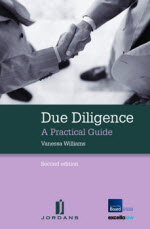 Due Diligence: A Practical Guide
This content is unique to LexisNexis
Commentary
CURRENCY:
Archive, no longer updated
Edition: 2nd
Solicitors working on mergers and acquisitions, management buy outs/buy ins and other corporate finance transactions have to undertake due diligence as a core part of their workload, yet practical guidance for lawyers is difficult to come by.
Due Diligence: A Practical Guide
meets this need by providing a step-by-step manual of the complete due diligence process from start to finish. It brings together simple transactional guidance with trouble shooting, potential pitfalls, points of concern and precedents to provide everything that the company and commercial lawyer needs in a single handbook. This is complemented with helpful practice notes with tips and traps highlighted.
The know-how is supplemented with a wealth of fully annotated precedents including team sheets, questionnaires and reports. All of these are included on the accompanying CD-ROM, allowing them to be placed directly on client files and giving users a ready-made practice toolkit.
Following on from the success of the 1st edition, this new edition reflects changes in legislation and explores in depth some common issues that can de-rail a transaction if not explored fully in the due diligence process:


Employee liabilities


Environmental concerns


Data protection and the release of information


Anti-corruption and the impact of the Bribery Act 2010


Pensions and under-funding


Software businesses and intellectual property issues


Culture and ethos


In addition, this new edition explores how due diligence can inform post-acquisition integration and how ongoing business health-checks enable the business to maximise performance and minimise risk.
The popular combination of commentary and precedents will be maintained, empowering the reader to approach any due diligence exercise with confidence and understanding.