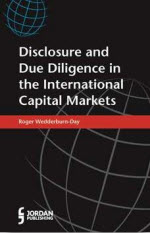 Disclosure and Due Diligence in the International Capital Markets (Archive)
This content is unique to LexisNexis
Commentary
CURRENY: Archived, no longer updated

Edition: 1st
Disclosure and Due Diligence in the International Capital Market is primarily intended as a practical guide to assist lawyers who are asked to draft a description of a new issuer, starting with a blank piece of paper. It will be an equally useful guide to a lawyer or investment banker who is asked to review and comment on a draft description of a new issuer.

In addition, the disclosure discussion in Parts 1 and 2 will be of interest to new issuers. The due diligence and liability discussions in Parts 3 and 4 will be of interest to all issuers, investment banks and other professionals in the context of their potential liability for inadequate disclosure under, and the due diligence defences afforded to them by, English law.

From a regulatory perspective, there has been a clear trend in the international capital markets towards requiring more and better disclosure. In addition to this, lawyers practising in this area need to develop the ability to write good disclosure. If practitioners in this area do not have the necessary skills, there is a high risk this could increase the potential liability to both the practitioner and client.

The book aims to address this requirement by providing practical guidance on how to draft the relevant sections of the offering document with a clear explanation of regulations and potential liabilities.