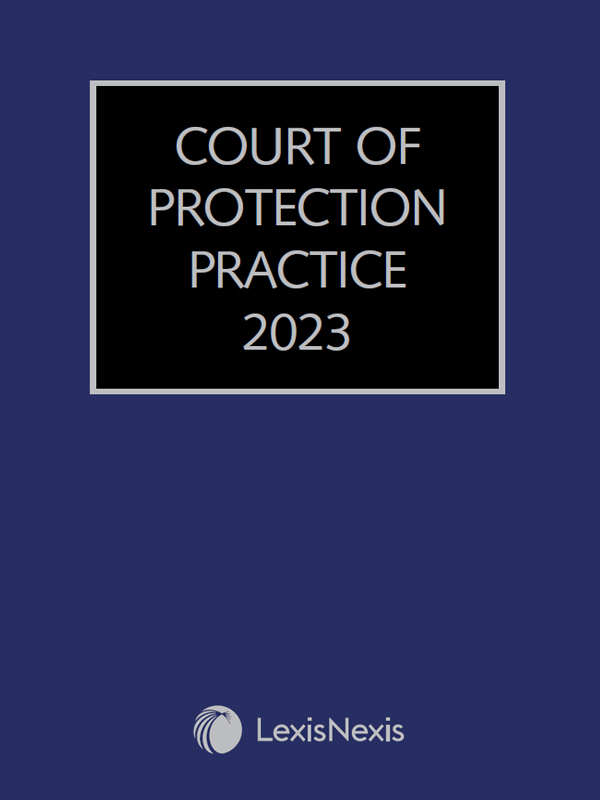 Court of Protection Practice
This content is unique to LexisNexis
Commentary
Source Currency
March 2023
This popular major work provides a detailed and authoritative guide to the enhanced jurisdiction with a similar style and format to The Family Court Practice and Civil Court Service.
Written by a team of lawyers involved in the implementation of the Mental Capacity Act 2005, Court of Protection Practice provides valuable procedural guidance for all judges hearing cases in the Court of Protection.
Court of Protection Practice retains its well-established format as the leading court reference work governing this fast-developing jurisdiction, with a status akin to its sister publication The Red Book. This new edition has been further enhanced and updated throughout, thus ensuring that practitioners have all the latest developments at their fingertips.
Update information

The 2023 edition brings you:

Updates to the Court of Protection Rules, including new rules for contempt proceedings


Extensive new and revised commentary to support the new rules


All the latest amendments to the practice directions, including a new practice direction on the scheme for unopposed property and affairs orders


Updated commentary to reflect the latest case law


Case summaries of all recent decisions


Commentary on the latest position with liberty protection safeguards


An overview of the year from LJ Baker.

As the jurisdiction evolves, it is vital for practitioners to have up-to-date information in order to act efficiently and accurately for clients.
Contributors
| | |
| --- | --- |
| David Edwards | Contributor |
| Claire van Overdijk KC | Contributor |
| Arianna Kelly | Contributor |
| Alex Ruck Keene KC (Hon) | Contributor |
| Adrian D Ward MBE | Contributor |
| Gordon R Ashton OBE | Consultant editor |
| The Rt Hon Lord Justice Baker | General editor |
| Martin Terrell | Contributor |
| Annabel Lee | Contributor |
| His Honour Judge Marc Marin | Senior contributing editor |