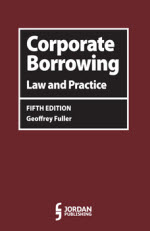 Corporate Borrowing: Law and Practice
This content is unique to LexisNexis
Commentary
Fifth Edition
The law of borrowings embraces many different areas of law: contract, company law, trusts, security, insolvency, tax, financial services and regulation.
Corporate Borrowing: Law and Practice
brings together all of these elements in a practical and concise single volume.
It defines the most effective ways of raising debt finance - from bank loan agreements to MTN programmes - and examines the specific legal problems of security and prospectus requirements under the Prospectus Directive. It examines the issues relating to the various types of security, asset backed securities, guarantees, appointment of trustees, attracting lenders and the statutory provisions regarding invitational material, and the tax implications or borrowings by companies.
The new edition includes:
Changes to prospectus regulation as a result of the EU Amending Directive (amending the Prospectus Directive)
New regime for registration of charges under Companies Act 2006, as 859A-Q
Changes to regulatory capital regime as a result of CRD IV and the Capital Requirements Regulation
Impact of US tax provisions under FATCA
New sections on commercial considerations of debt vs equity, differences between loan agreements and debt securities, and liability for misleading offering documents
Fully updated to reflect case-law, changes in legislation and changes in market practice and documentation since 2009