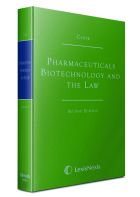 Cook: Pharmaceuticals, Biotechnology and the Law
Commentary
Pharmaceuticals Biotechnology and the Law is the definitive guide to the law in Europe relating to pharmaceuticals, biotechnology and their related areas such as medical devices.

SOURCE CURRENCY
Third edition

Written by leading patent and regulatory lawyer Trevor Cook, Partner at Wilmer Cutler Pickering Hale and Dorr LLP, this book comprehensively covers the wide variety of legal and regulatory issues which surround these industry sectors.

The degree of rewriting and expansion necessitated by amending legislation and by new case law in the seven years since the second edition has been considerable. While the structure of the second edition has been retained, some chapters have been renamed to reflect changes in emphasis and many have undergone some rearrangement and refocusing.

Issues surrounding the disclosure of clinical data are now addressed in Chapter 9, in the same chapter as clinical trials, rather than in Chapter 18, along with data exclusivity; Chapter 6 has been refocused on to the 'product of nature' issue as encountered in biotechnology patenting as well those aspects of the Biotechnology Directive that are not discussed in Chapter 7; and much discussion of the products of biotechnology now takes place in Chapter 5, reflecting the fact that the most important therapeutic biotechnological products today are monoclonal antibodies, which are not found in nature (even though they are often defined by reference to products that are found in nature) and which raise, from a patent point of view, issues that tend to be more akin to those encountered with small molecules than do the first generation of biotechnology products.

As with previous editions, issues are presented in a broadly chronological framework through the various stages of developing a life sciences product and taking it to market.