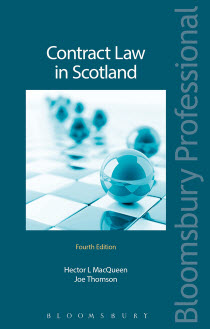 Contract Law in Scotland
Commentary
SOURCE CURRENCY
5th Edition, August 2020

Contract Law in Scotland provides a comprehensive introduction to the principles of the Scots law of contract and provides the reader with a clear analysis of this difficult area of the law.

This practical text:
- Illustrates the different types of contractual situations and examines the formation, performance and enforcement of contracts;
- Includes examples of typical contract clauses and treats remedies in detail;
- Is set in a comparative context and discusses the problems of cross-border and international contracts;
- Explains the underlying principles of contract law;
- Is written in a clear, well structured style and uses diagrams to illustrate complex situations.

The fifth edition covers key Supreme Court cases including Cavendish Square Holding BV v Tala El Makdessi and ParkingEye Limited v Beavis regarding penalty clauses. It also includes a new chapter on capacity to make a contract ie 'Who can make a Contract?'

Contents: 1 Introduction; 2 Creation of Voluntary Obligations (1): Capacity and Formation of Contract; 3 Creation of Voluntary Obligations (2): Writing, Pre-Contractual Liability, Promise and Third-Party Rights; 4 Contents, Effects and Performance; 5 Getting Out of the Contract; 6 Breach of Contract and Self-Help Remedies; 7 Breach of Contract and Judicial Remedies and 8 Illegal Contracts and Judicial Control of Unfair Contract Terms.