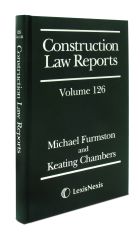 Construction Law Reports
This content is unique to LexisNexis
Cases
Construction Law Reports gives systematic coverage of the judgments of the Technology and Construction Court, the specialist court of the construction industry, and appellate decisions therefrom. Judgments of relevance from other courts and jurisdictions are also included. The series reports the full text of judgments, using approved transcripts. The reports deal with major liability cases; important building contract cases, including those involving the interpretation of standard form construction contracts; claims by and against local authorities relating to statutory duties, public health legislation and building legislation; and claims relating to work done, materials supplied or services rendered. The relevant facts of each judgment and the principles of law applied are summarised in the headnotes. The archive of Construction Law Reports available on LexisLibrary goes back to Volume 1 (1983/84).
AUTHOR INFORMATION
EDITORS:
Philip Boulding QC
Simon Hughes QC
Adam Constable QC
Calum Lamont QC
William Webb
James Thompson
Paul Bury
Simon Taylor
CONTRIBUTORS:
Sarah Williams
Brenna Conroy
Jennie Wild
Tom Coulson
James Frampton
COPYRIGHT:
volumes 1 to 53: The Estate of Vincent Powell-Smith and Keating Chambers Service Company Ltd
volumes 54 onwards to date: Keating Chambers Service Company Ltd
COPYRIGHT INFORMATION
Some of the content in this title is reproduced under Crown copyright, under various different licensing arrangements. These may include Crown copyright and database right material re-used under the Open Government Licence v3.0 and case law licensed under the Open Justice Licence v1.0 (or any update of such). To view these licences, visit
https://caselaw.nationalarchives.gov.uk/open-justice-licence
and
https://www.nationalarchives.gov.uk/doc/open-government-licence/version/3/
.
Material derived from the European Institutions is © European Union, 1998-2023 and re-used under the terms of the Commission Decision 2011/833/EU. To the extent that the above licences do not apply, Crown copyright material is reproduced with the permission of the Controller of His Majesty's Stationery Office and the King's Printer for Scotland, while Parliamentary copyright material is reproduced with the permission of the Controller of His Majesty's Stationery Office.
While we take all care to ensure this work is accurate, the authors, editors and publishers will not be liable for any losses that any person or entity may suffer as a result of relying on its contents.