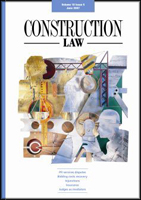 Construction Law (Journal)
Journal
This highly regarded monthly publication, packed full of practical advice, is essential reading for anyone working in the public or private sector within the industry. High quality articles span a range of issues affecting the industry. Regular materials include a 'contracts watchdog', that looks at the latest forms of standard contracts.

The following sections of the printed journal are reproduced online - Guest Editor, feature articles (which fall under topic names such as contracts monitor, insurance and alternative dispute resolution) and Reviews.

The following sections are not reproduced online -

Editor's Comment, News, New and proposed legislation and

Reports from the Court.

Print ISSN: 0963-6706

SOURCE CURRENCY
Volume 34, Issue 7, 1 AUGUST 2023

Citation: (2023) 34 7 Cons.Law 1

UPDATE INFORMATION

Editorial
New hospital' design needs to be reconsidered

News
Carillion directors banned
Landmark planning ruling hailed by heritage campaigners
Responsible Actors Scheme launched
News in Brief
Legal terms explained

Articles
Contractors Insolvency and the potential impact a construction project
State of play table
Reports from the courts
Efficient project management an elusive quality
Construction Law Guide to: Claims for time, loss and expense
The Construction Playbook and effective contracting: moving the dial vision to reality
Why fluctuation clauses must now be a central feature in JCT contracts
Refinements and Reforms of the Arbitration Act 1996: Reforming Landmark Legislation
Timing and validity of pay less notices
Employer's Liability and Disease Claims
Can one adjudication decision be set off against another?