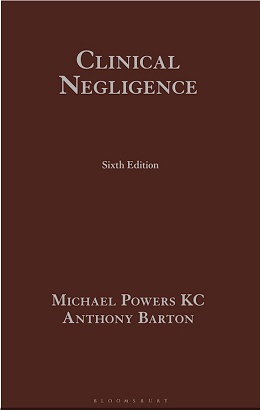 Clinical Negligence
Commentary
SOURCE CURRENCY
5th Edition, August 2015

Clinical Negligence, Fifth Edition remains the only text of its kind to cover both medical and legal aspects of medical negligence. Written by a team of 54 experts, it continues to provide the most comprehensive and authoritative guidance on all aspects of clinical negligence claims from bringing an action for damages to presenting expert evidence in court. It also includes detailed consideration of funding and cost implications.Those needing clear updated guidance to make the best possible preparations for an action will find all they need here.

Updates in the fifth edition
Some of the key developments covered in the new edition are:New funding regime under Legal Aid, Punishment and Sentencing of Offenders Act 2012
Montgomery v Lanarkshire
The Mid Staffordshire NHS Foundation Trust Public Inquiry ("Francis Report")
Sienkievicz v Greif
Bailey v Ministry of Defence on causation
Whetstone v MPS and Woodland v Essex County Council on liability of practices
Privatisation of funding access to justice in clinical negligence
New costs regime (QOWCS) under Civil Procedures Rules
Coroners and Justice Act 2009 and secondary legislation

Easy-to-access structure
The new edition maintains its easy-to-access, two-part structure. The first part, set out in 17 chapters, deals with legal aspects of medical malpractice, including complaints procedures, poor performance and medical professional governance, preparation of medical evidence, settlements and trial. The final 25 chapters in the second part cover the risks associated with particular areas of specialist medical practice.