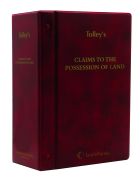 Claims to the Possession of Land
This content is unique to LexisNexis
Commentary
Claims to the Possession of Land
sets out and explains the law and procedure of each type of possession claim. With nearly 300 comprehensive forms and precedents, which are readily adaptable for a whole range of cases, it provides a complete and thorough exposition of this complex subject.
It offers up-to-date information on a regular basis to property and litigation lawyers, property managers, landlords, tenants and other occupiers. This source has been extensively revised and updated to take account of all new case law as well as changes in legislation. It includes full coverage of the Civil Procedure Rules as well as the cases decided under the new rules.
Claims to the Possession of Land is the primary and portable reference work for every type of possession action - both for those seeking possession and those resisting it.
See also
Claims to the Possession of Land Property Precedents
SOURCE CURRENCY
Issue 42, April 2020
Coronavirus (COVID-19) — Coronavirus Act 2020: a general note
Residential Tenancies
The Coronavirus Act 2020 amends legislation to provide residential tenancies in England and Wales with protection from eviction from 27 March 2020 to 30 September 2020, the relevant period.
Schedule 29 of the Act makes reference to the following;
• protected tenancies and statutory tenancies — Protection from Eviction Act 1977, s 5(1) and Rent Act 1977, s 3;
• secure tenancies — Housing Act 1985, ss 83, 832ZA;
• flexible tenancies — Housing Act 1985, s 107D;
• assured tenancies — Housing Act 1988, s 8;
• assured shorthold tenancies — Housing Act 1988, s 21;
• introductory tenancies —Housing Act 1996, s 128;
• demoted tenancies — Housing Act 1996, s 143E.
In respect of the above tenancies the Act specifically extends notice periods in relation to possession proceedings to three months.
Additionally, there are consequential modifications in relation to prescribed forms.
Finally, as from 26 March 2020, all proceedings for possession brought under CPR Part 55 and all proceedings seeking to enforce an order for possession by a warrant or writ of possession are stayed for a period of 90 days.
See Coronavirus Act 2020 s 81, Sch 29, paras 1–12 and CPR PD 51Z – Stay of Possession Proceedings and Extension of Time Limits – Coronavirus.
Business Tenancies
With the coming into force of the Coronavirus Act 2020 relevant business tenancies have protection from re-entry or forfeiture for non-payment of rent during the relevant period of 27 March to 30 June 2020 (or such later date as may be specified).
See Coronavirus Act 2020 s 82(1), (12).
Main Title: Updates
The following parts of this title have been updated for Issue 42 (April '20):
Division B: Tenancies
Chapter B2 (Forfeiture), Chapter B3 (Covenants) have been updated.
Division C: Residential Tenancies
Chapter C3 (Assured Tenancies), Chapter C4 (The secure tenancy regime) have been updated.
Division E: Agriculture
Chapter E2 (Agricultural tenancies) has been updated.
Division G: Procedure
Chapter G1 (Procedure in possession claims and landlord and tenant claims) has been updated.
The Tables and Index have been updated.
For subscriptions and filing enquiries, see the customer queries information which is printed at the end of the filing instructions which follow this page.
Once it has been circulated to all users of
Claims to the Possession of Land
, this page may be filed at the front of the Binder.