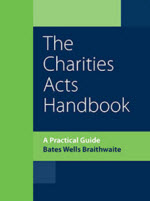 The Charities Acts Handbook
This content is unique to LexisNexis
Commentary
The Charities Acts Handbook is the latest guide to charity law from the specialist charity law team at Bates Wells Braithwaite. This new volume contains expert commentary and analysis of:


The Charities Act 1992


The Charities Act 2011


The Charities (Protection and Social Investment) Act 2016


For those who have found Stephen Lloyd's Charities: The New Law an essential companion, this is the updated version – published with the benefit of Bates Wells Braithwaite's experience of how the law has been interpreted and applied in practice. Key new content includes a detailed chapter on the Charitable Incorporated Organisation, a new chapter on exempt charities, commentary on changes to fundraising and signposts to possible future areas for reform.

The updated text of all three Acts (showing how the 2016 Act amends the earlier legislation) and other relevant statutory instruments are also included.

The Handbook is an indispensable reference for lawyers, accountants, trustees and all those involved in the running and management of charities.