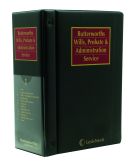 Butterworths Wills Probate and Administration Service
This content is unique to LexisNexis
Commentary
Butterworths Wills Probate and Administration Service (BWPAS) contains clear, step-by-step guidance on all areas of probate and administration law and practice, from planning and drafting a will, through administration of the estate and taxation, to after-death variations, family provision and litigation. Combining narrative text with precedents and source materials, it offers commentary and advice from leading experts. BWPAS includes precedents (fully annotated and presented clause by clause where appropriate) and worked examples. There is a separate section on provision of wills for disabled beneficiaries; and tax considerations are emphasised throughout.
NB. Divisions J and K are not reproduced in this source as they are purely legislative material. They can be found online however within UK Parliament Acts or UK Parliament Statutory Instruments.
SOURCE CURRENCY
Issue 131, October 2023
UPDATE INFORMATION
The following divisions have been updated:
Binder 1
Division D Obtaining the Grant: Narrative
Chapter 3 Procedure
Chapter 5 Appendix
Binder 2
Division I State Benefits: Narrative
Chapter 1 State benefits
Please visit www.lexisnexis.co.uk/en-uk/products/lexis-library.page for a free trial or call or speak to your Account Manager.
Contributors
| | |
| --- | --- |
| Cherry E. Wright , LLB (London), Solicitor (Hons), STEP, Partner, Hugh James (retired) | Emeritus editor |
| Martin Davey , LLB, Honorary Research Fellow, formerly Senior Lecturer in Law, University of Manchester | Editor |
| Simon Ennals , Solicitor, Essential Rights Legal Practice, part-time chairman of Social Security Appeals Tribunal | Editor |
| Charles Lloyd Charles Lloyd , LLB (Exon), Solicitor, Partner, Macfarlanes LLP | Editor |
| Nazreen Pearce Nazreen Pearce , LLB (London), BA (Hons), Barrister of Inner Temple, Circuit Judge on the South Eastern Circuit (Retired) | Editor |
| A M Wilton , LLB, Senior Lecturer in Law, Newcastle Law School, University of Newcastleupon- Tyne | Emeritus editor |
| Simon Jennings , MA (Oxon), FCA, TEP, Partner, Rawlinson & Hunter, Chartered Accountants | Editor |
| Clive V. Margave-Jones , MA, LLM (Cantab), Solicitor (Hons), Principal, Margraves; Lecturer (part–time) University College of Wales, Aberystwyth | Editor |
| Jonathan Pratt | Editor |
| R T Oerton , Solicitor (Hons), Sir George Fowler Prizeman, Consultant with Bircham & Co (now Bircham Dyson Bell) (retired) | Emeritus editor |
| Michael Parkinson , LLB (Hons) (Dunelm), Solicitor, Partner, Russell-Cooke LLP | Editor |
| Jacob Ward | Editor |
| Lynnette Bober Lynnette Bober , MA (Cantab), ACA, CTA, Director, Private Client Tax, Rawlinson & Hunter | Editor |
| Laura Dadswell Partner | Editor |
| Gordon R Ashton , LLB (Manchester), Solicitor, District Judge on the Northern Circuit, Deputy Master of the Court of Protection (retired) | Emeritus editor |
| David T. Davies ,RD, BA, FTII, Solicitor, Senior Partner Penningtons Solicitors LLP (retired) | Emeritus editor |