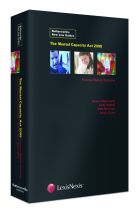 Butterworths New Law Guide: Mental Capacity Act 2005
This content is unique to LexisNexis
Commentary
This latest addition to the popular Butterworths New Law Guide series provides a succinct analysis of the Mental Capacity Act 2005 including the full text of the Act.

It explains in detail key concepts of the new legislation and implication for practitioners, whilst identifying areas of potential difficulty and providing guidance in relation to particularly controversial areas of the Act.

Written by experts in the field, the book also answers common questions relating to capacity and provides practice points to ensure full guidance on the new law.