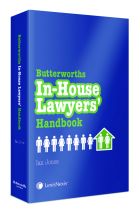 Butterworths In-House Lawyers Handbook
This content is unique to LexisNexis
Commentary
Butterworths In-House Lawyers' Handbook is the first and only text to bring together all the practical guidance, precedents, expert commentary and key source material for the in-house law department.

In today's world, in-house lawyers are expected to have a thorough understanding of the aims and activities of their employer and to relate that understanding in the advice they give; as well as a high level understanding of a range of legal issues in multiple jurisdictions and know how to access that information quickly. To help you make sense of the key requirements of the in-house lawyer role Ian Jones provides you with all the advice you need from managing a legal team and your external suppliers to training and handling the procurement process. In addition, key precedents and accessible information on a range of the most common issues in core jurisdictions are included.

Butterworths In-House Lawyers' Handbook brings you all the latest information you need to stay on top of today's practice and procedure.