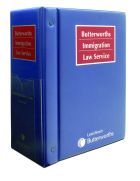 Butterworths Immigration Law Service
This content is unique to LexisNexis
Commentary
Butterworths Immigration Law Service is compiled by a team of leading immigration practitioners, academics and judges and offers authoritative guidance on all immigration matters. The service contains the essential statutes, statutory instruments, cases, ministerial circulars and forms relating to every aspect of immigration law, human rights, refugee and asylum law as well as EU treaties, regulations and directives. There are helpful introductions of the main topics, with more detailed comments and annotations in the body of the texts. It also contains the latest Immigration Tribunal Forms, Home Office guidelines and Parliamentary statements. The practitioner has at hand an extensive, fully cross-referenced collection of source materials and cases, together with key extracts from each judgment. Regularly updated and maintained, the service provides all the legislation needed for effective and reliable research and will enable the immigration practitioner to advise with authority.

SOURCE CURRENCY
Issue 125, November 2020

UPDATE INFORMATION

Binder 1
Division A Statutes
This division has been updated.

Binder 2
Division II Visitors and Students
This division has been updated.

Binder 3
Division IX Practice and Procedure and Appeals
This division has been updated.

Binder 4
Division 2D European Asylum Materials
This division has been updated.

Tables
Updated cases table is included in this issue.