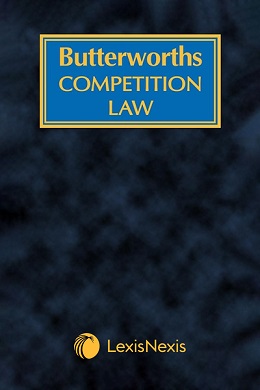 Butterworths Competition Law Service
This content is unique to LexisNexis
Butterworths Competition Law Service provides in-depth commentary and analysis of competition case law and legislation in the UK and EU.
Written by an expert team in competition law, Butterworths Competition Law Service covers all aspects of competition legislation in the EU and the UK, from the substantive and procedural provisions of each system of legislation, to particular regimes that affect specific sectors, such as gas, electricity, agriculture and communications.
Widely relied upon by practitioners, the work adopts a practical, transaction-based approach with much of the text dealing with particular types of agreement or commercial behaviour in context. This invaluable title provides all the information that the busy practitioner is likely to need in day-to-day practice.
TABLE OF CONTENTS
Division I: Principles of EU and UK Competition Law
Division II: Horizontal Agreements Likely to be Prohibited
Division III: Horizontal Agreements Likely to be Permitted
Division IV: Distribution
Division V: Licensing
Division VI: Dominant Firms and Monopolists
Division VII: Merger Control
Division VIII: State Aids
Division IX: Special Sectors
Division X: Enforcement by the Regulatory Authorities
Division XI: Private Enforcement in National Courts
Division XII: Extra-territoriality
Source Currency
Issue 157, November 2023
Update Information
The following parts of this title have been updated for Issue 157 (November' 23):
Division II Horizontal Agreements Likely to be Prohibited
Chapter 1 Introduction to and Outline of Division II
Chapter 2 Cartels
Chapter 3 Information Exchanges
Chapter 4 Collusive Tendering
Chapter 5 Collective Exclusive Dealing
Chapter 6 Collective Boycott
Chapter 7 Joint Selling
Chapter 8 Joint Purchasing
Chapter 9 Joint Advertising and Promotion
Chapter 10 Restrictions on Prices and Pricing
Chapter 11 Restrictions on Non-Price Trading Conditions
Chapter 12 Restrictions Limiting or Controlling Production
Chapter 13 Restrictions Limiting, Controlling or Sharing Markets
Chapter 14 Restrictions Limiting or Controlling Technical Development
Chapter 15 Restrictions Limiting or Controlling Investment
Chapter 16 Restrictions Sharing Sources of Supply
Chapter 17 Restrictions Applying Dissimilar Conditions to Equivalent Transactions
Chapter 18 Restrictions Imposing Supplementary Obligations
Chapter 19 Pay for Delay
DIVISION IX SPECIAL SECTORS
Chapter 3 Transport
Contributors
| | |
| --- | --- |
| Elizabeth Turner , Solicitor and Legal Director, Addleshaw Goddard LLP, Leeds | Author |
| Duncan Sinclair, Barrister, 39 Essex Chambers, London | Author |
| Jeremy Robinson , Solicitor, Partner, Harcus Parker, London | Author |
| Nadja Huber , Solicitor, Ashurst LLP | Author |
| Vincent Power, Solicitor, Partner, A&L Goodbody, Dublin | Author |
| Kenny Henderson , Solicitor, Partner, CMS, London | Author |
| Robert Bell , BA, LLM , Solicitor, Partner, Rosenblatt, London | Author |
| Mark Daniels, Senior Knowledge Lawyer, Norton Rose Fulbright LLP, London | General editor |
| David Henry , Counsel, McDermott Will & Emery, Brussels | Author |
| Lode Van Den Hende Solicitor, Partner, Herbert Smith Freehills LLP, Brussels | Author |
| Paul Henty, Solicitor, Partner, Beale & Co Solicitors, London | Author |
| Euan Burrows , Solicitor, Partner, Ashurst LLP, London | Author |
| Morris Schonberg , Senior Associate, Herbert Smith Freehills LLP, Brussels | Author |
| Ian Giles, Head of Antitrust and Competition, Europe, Middle East and Asia, Norton Rose Fulbright LLP, London | General editor |
| Frances Murphy , BA, Solicitor, Partner, Morgan Lewis, London | Author |
| Natasha Gromof, Solicitor, Senior Associate, Ashurst, London | Author |