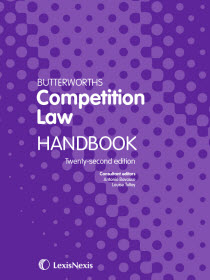 Butterworths Competition Law Handbook
This content is unique to LexisNexis
Commentary
Butterworths Competition Law Handbook contains all of the principal primary and secondary legislation relating to competition law together with extensive coverage of European legislation, CMA guidelines, and CAT materials.

Key Acts in Part 1 (Statutes) include the Competition Act 1998, the Enterprise Act 2002 (as amended by the Enterprise and Regulatory Reform Act 2013). Also included are the relevant substantive provisions of the 2013 Act itself as well as the relevant provisions of the Company Directors Disqualification Act 1986 and the Financial Services and Markets Act 2000.

Part 2 contains the most important Statutory Instruments made under those Acts.

Part 3 (Competition & Markets Authority and other guidelines) contains the key merger and antitrust guidance, covering jurisdictional and procedural issues in merger cases, merger remedies, powers of investigation and leniency in cartel cases, market studies and market investigation references. It includes OFT and Competition Commission guidelines where still relevant.

Part 4 contains the EU material relevant to all competition lawyers (excluding state aid materials). It covers such areas as concentrations, enforcement, cooperation and vertical agreements and the insurance and transport sectors.

Part 5 contains UK and EU state aid materials. It is, for ease of reference, divided into chapters according to subject matter.

Part 6 (UK and EU court materials) brings together material relating to UK and EU litigation including the Competition Appeal Tribunal Rules 2015, the CAT Guide to Proceedings (2015), the Rules of Procedure of the Court of Justice, and the Consolidated Version of the Rules of Procedure of the General Court.

CURRENCY
Twenty-second edition, up-to-date to November 2016.