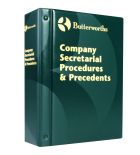 Butterworths Company Secretarial Procedures
This content is unique to LexisNexis
Commentary
Issue 117 September

Binder 1
The following section has been updated:
Part 1 Incorporation

Binder 2
Part 4 Meetings
Part 4 Meetings Precedents

The updates made in Part 1 relate to the changes being introduced through the Charities Act 2022.

Part 4 has been updated to include two guidance notes from the Chartered Governance Institute. One is on good practice for virtual board and committee meetings. The other is guidance on board engagement and stakeholders, a joint guidance by the CGI and the Investment Association (published in 2017). The update includes details of the FRC consultation on proposed revisions of the UK Corporate Governance Code. This consultation was launched on 24 May 2023.