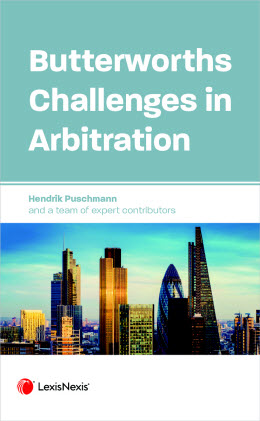 Butterworths Challenges in Arbitration
This content is unique to LexisNexis
Commentary
Butterworths Challenges in Arbitration
Challenges against Arbitrators, Awards and Enforcement in England and Wales

Currency: November 2019

Hendrik Puschmann
and a team of expert contributors

Essential reading for arbitration lawyers in England and beyond. Edited by a leading practitioner and academic
Professor Mads Andenas, QC (Hon), Brick Court Chambers

This is a welcome and refreshing addition to the texts on the Arbitration Act 1996, providing insightful guidance on the principles applicable to challenges and willing to question approaches adopted under the Act in a thought-provoking way
Ricky Diwan QC, Essex Court Chambers


This brand new work covers the various ways in which arbitrators, arbitral awards and their enforcement can be challenged through the courts and via arbitral institutions.

The authors offer in-depth insights into both the Arbitration Act 1996 and challenges under important institutional rules. The book includes commentary on the law as it is (including relevant case law and commentaries) and an outlook on future developments. It offers practical guidance to those involved in bringing, or defending against, a challenge. It also provides context on how the English regime for challenges evolved and how it compares to other jurisdictions, particularly those following the UNCITRAL Model Law.

ABOUT THE EDITOR
Hendrik Puschmann is a Solicitor-Advocate and Partner of Farrer & Co, where he is co-head of the arbitration practice. He is a Fellow Commoner of Clare Hall, Cambridge, Visiting Senior Lecturer in international law and commerce at Johannes Kepler University Linz (Austria) and member of the Consultant Editorial Board of LexisPSL Arbitration.