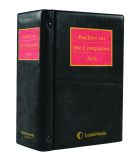 Buckley on the Companies Acts
This content is unique to LexisNexis
Commentary
Buckley has been the leading reference source for company law since it was first published in 1872. Buckley is an essential source of up-to-date information for both practitioners and academics.

Extensive annotation and detailed expert commentary is included on all sections of the Companies Act 2006 still in force, and the Companies Consolidation (Consequential Provisions) Act 1985.

SOURCE CURRENCY
Issue 45, June 2023

Commentary in the following divisions has been updated:



Division 1: Formation;


Division 4: Derivative Claims and Proceedings;


Division 16: Reconstructions, Mergers and Takeovers;


Division 19: Dissolution and Restoration;


Division 29: Companies (Audit, Investigations and Community Enterprise) Act 2004.


UK legislation has been updated to May 2023.