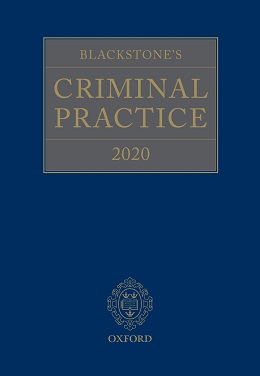 Blackstone's Criminal Practice 2020
Commentary
Key points
Your single point of reference for the criminal courts
Professor David Ormerod QC (Hon) and David Perry QC lead a team of contributors whose courtroom expertise you can rely on
Clear, common-sense navigation coupled with a logical, intuitive structure - instant access to the information you need
Practical guidance on sentencing and procedure - your essential companion through every stage of every trial
Useful materials supplement contains the materials you need to access most frequently - includes the full updated text of the Criminal Procedure Rules, the Criminal Practice Directions, and the Sentencing Guidelines
Supplements, quarterly updates, web updates, and email alerts keep you fully abreast of all developments
New to this edition
Coverage of all new developments including key case law, the Offensive Weapons Act 2019, the Voyeurism Offences Act 2019, the Counter-Terrorism and Border Security Act 2019, the Crime (Overseas Production Orders) Act 2019, and the Taxation (Cross-border Trade) Act 2018
Distinguished new member of the Advisory Editorial Board: HHJ Deborah Taylor, and author team: HHJ Jonathan Cooper
Neutral citations added throughout to make referencing even easier
Updated Criminal Procedure Rules (integrated with the Criminal Practice Directions), Sentencing Guidelines, including the new General Guideline: Overarching Principles, Child Cruelty, Manslaughter, Arson and Criminal Damage, and appendices of relevant PACE codes
Further enhancements to the supplement, including brand new tables of expanded explanations for aggravating factors, and factors reducing seriousness or reflecting personal mitigation
Led by David Ormerod QC (Hon) and David Perry QC, our team of authors has been hand-picked to ensure that you can trust our unique combination of authority and practicality.
This new edition has been meticulously revised to provide extensive coverage of all new legislation, case law, and Practice Directions.
Readership: Criminal law practitioners: solicitors and barristers; the judiciary; the Crown Prosecution Service; students on vocational law courses; academics and reference libraries in the UK and worldwide; the police.
Author Information
Professor David Ormerod QC (Hon), Barrister, Bencher of Middle Temple, Professor of Criminal Justice, Queen Mary, University of London, and David Perry QC, Barrister, 6KBW College Hill
Blackstone's Criminal Practice is written by a distinguished team of contributors, representing the accumulated experience of the academic world, the Bench, the Bar, and the solicitors' profession. The team is headed by Professor David Ormerod QC (Hon) and David Perry QC.
General Editors
Professor David Ormerod QC (Hon)
David Perry QC
Founding Editor
HHJ Peter Murphy
Consultant Editor
HHJ John Phillips CBE
Advisory Editorial Board
The Rt Hon Sir Brian Leveson, President of the Queen's Bench Division
The Honourable Mr Justice Globe
HHJ Sally Cahill QC
HHJ Martin Edmunds QC
HHJ Richard Marks QC
HHJ Jeffrey Pegden QC
HHJ Heather Norton
HHJ Michael Hopmeier
HHJ Steven Everett
HHJ Jonathan Cooper
Michael Bowes QC, Outer Temple Chambers
Alison Levitt QC
Tim Owen QC, Matrix Chambers
Robert Smith QC, 16 Park Place Chambers
Adrian Waterman QC, KBW Chambers
HH Eric Stockdale
Contributors
Paramjit Ahluwalia, Barrister, Lamb Building Chambers
Duncan Atkinson QC, Barrister, 6KBW College Hill, Senior Prosecuting Counsel for the Crown at the Central Criminal Court
Alex Bailin QC, Barrister, Matrix Chambers
Diane Birch OBE, LLB, JC Smith Professor of Law, University of Nottingham
Ed Cape, LLM, Solicitor, Professor of Criminal Law and Practice, University of the West of England, Bristol
HHJ Johannah Cutts QC, Reading Crown Court
Anand Doobay, Partner, Boutique Law LLP
Anthony Edwards, Solicitor, TV Edwards LLP
Rudi Fortson QC, Barrister, 25 Bedford Row; Visiting Professor of Law, Queen Mary University
Daniel Godden, Partner, Berkeley Square Solicitors
Katherine Hardcastle Barrister, 6KBW College Hill
William Hays, Barrister, 6KBW College Hill
Michael Hirst, LLB, LLM, Emeritus Professor of Criminal Justice, Leicester De Montfort Law School
Laura C. H. Hoyano, Associate Professor of Law, University of Oxford; Senior Research Fellow in Law, Wadham College; Fellow of Middle Temple; Barrister, Red Lion Chambers
Peter Hungerford-Welch, LLB, FHEA, Barrister and Assistant Dean (Head of Professional Programmes), The City Law School, City, University of London
Paul Jarvis, MA, Barrister, 6KBW College Hill
Adrian Keane, LLB, Barrister, Emeritus Professor of Law, The City Law School, City, University of London
Michael Lerego QC, Recorder of the Crown Court
Richard McMahon QC, LLB, LLM, Deput Bailiff of Guernsey
Valsamis Mitsilegas, Professor of European Criminal Law, Head of the Department of Law, Queen Mary University London
Tim Moloney QC, Barrister, Doughty Street Chambers
Rebecca Niblock, Partner, Kingsley Napley LLP
Amanda Pinto QC, MA, Barrister, 33 Chancery Lane
HH Peter Rook QC, sometime judge of the Central Criminal Court; judicial fellow of the UCL Judicial Institute
Richard D. Taylor, MA, LLM, Barrister, Professor of English Law, Lancashire Law School, University of Central Lancashire
Mark Topping, LLB, RD, Solicitor
Martin Wasik CBE, LLB, MA, FRSA, Barrister, Recorder of the Crown Court, Emeritus Professor of Criminal Justice, Keele University