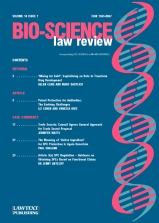 Bio-Science Law Review
Journal
The rapid advances in bio-science and bio-technology have resulted in a wealth of dynamic new industries and promise great advances in medical therapies and related benefits.
However, the underlying science that forms the basis of developments in genomics, gene therapy and related areas also poses new problems for both the regulatory and traditional intellectual property rights systems.
The complex balance between rewarding the inventor and investor, while at the same time not shutting out fair competition, has been highlighted in a series of recent cases.
Bio-Science Law Review is a peer-reviewed journal and reports and analyses these developments and acts as a forum for discussion of the legal protection and approval of these new technologies.
Each issue has two parts:
An editorial section containing articles, commentaries on specific cases or legislation, letters and book reviews; and
A news section carrying national reports, as well as reports on the activities of international and regional institutions (WIPO, EPO, European Commision, ECJ) by our worldwide contributors.
Regular coverage on developments in patent law and practice, joint ventures and other forms of collaboration, the legal issues of raising finance for bio-science industries, competition law issues, trade mark developments and reports on the activities of regulatory agencies such as the EMEA and FDA.
ISSN: 1365-8867
© Lawtext Publications Ltd