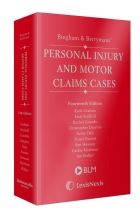 Bingham & Berrymans' Personal Injury and Motor Claims Cases
This content is unique to LexisNexis
Source Currency: 15th Edition (October 2018)
Bingham and Berrymans' Personal Injury and Motor Claims Cases is the leading work in this field and is written by experts in the field of personal injury and insurance law. First published in 1946, it provides practical guidance and information to all practitioners involved with motor and personal injury insurance litigation.
Covering all reported cases relevant to claims arising out of road traffic accidents, it is a unique combination of practical procedural advice, legal background and diversity of case summaries within, but not exclusive to, the context of motor claims. It clearly explains the principles behind the assessment of damages and offers advice on practice and procedure in the conduct of claims.
The 15th Edition includes, in particular, wholesale amendments to Chapters 1, 2 and 3 (commentary on the new Untraced Drivers' Agreement, dated 28 February 2017, covering accidents on or after 1 March 2017, has been included) and extensive amendments to Chapter 41 on costs. A new section has been added to Chapter 36 on accidents abroad, summarising the Government's approach to questions of jurisdiction and applicable law post-Brexit.
Team of expert authors from BLM
Ruth Graham, Partner
Verinder Bedi, Associate
Adam Burrell, Partner
Sarah Cartlidge, Partner
Christopher Drayton, Associate
Stuart Furniss, Partner
Clare Garnett, Partner
Andrew Guirguis, Solicitor
Simon Hammond, Partner
Stuart Hardy, Partner
Andrew Kerr, Partner
Alistair Kinley, Director of Policy and Government Affairs
Louisa Martindale, Partner
Cathie Mortimer, Partner
Joanna Peters, Partner
Edward Smethurst, Associate
David Thompson, Solicitor
Ian Walker, Partner