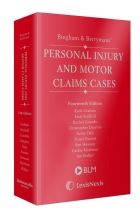 Bingham & Berrymans' Personal Injury and Motor Claims Cases
This content is unique to LexisNexis
Source Currency: 15th Edition incorporating the 1st Supplement (October 2020)
Bingham and Berrymans' Personal Injury and Motor Claims Cases is the leading work in this field and is written by experts in personal injury and insurance law. First published in 1946, it provides practical guidance and information to all practitioners involved with motor and personal injury insurance litigation.
Covering all reported cases relevant to claims arising out of road traffic accidents, it is a unique combination of practical procedural advice, legal background and diversity of case summaries within, but not exclusive to, the context of motor claims. It clearly explains the principles behind the assessment of damages and offers advice on practice and procedure in the conduct of claims.
The 1st Supplement material incorporated within the title explores the impact of recent developments in insurance law and personal injury litigation over the past two years. Key updates include:


Commentary on the new discount rate as set out in the 8th Edition of the Ogden Tables.


Analysis of a number of key cases, particularly R & S Pilling (t/a Phoenix Engineering) v UK Insurance Limited [2019] UKSC 16, in which the Supreme Court seemingly curtailed the concept of 'use' of vehicles within the meaning of the UK's domestic road traffic legislation, and Cable v Liverpool Victoria Insurance Company Ltd [2020] EWCA Civ 1015, in which the Court of Appeal has provided clarity on applications to strike out where multi-track claims are kept in the low value protocol after the issue of proceedings.


Clarification of the implications of the UK's departure from the European Union on cross-border litigation.