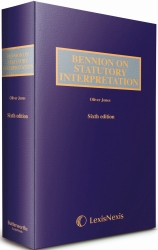 Bennion, Bailey and Norbury on Statutory Interpretation
This content is unique to LexisNexis
Commentary
SOURCE CURRENCY

8th Edition Supplement, November 2022
Bennion, Bailey and Norbury on Statutory Interpretation
is the leading work of its kind. It provides a clear and comprehensive guide to understanding, interpreting and applying legislation. Regularly used by practitioners and academics, and frequently cited in judgments throughout the common law world, it is a trusted and authoritative resource.
Building on the work begun in the previous edition to improve accessibility and enhance the content, this eighth edition includes a comprehensive account of recent developments, including enhanced coverage of EU-related law in light of Brexit.
There is also new content on devolved legislation, contributed by subject specialists Michael Anderson (Parliamentary Counsel, Drafting Team Leader, Scottish Government), and James George (Cwnsler Deddfwriaethol, Llywodraeth Cymru [Legislative Counsel, Welsh Government]). The entire text has been revised to include devolution issues throughout.
Key features:
comprehensive and up to date account of statutory interpretation
logical structure and overviews enable readers to find information quickly
each section begins with a succinct summary of legal principles, which is followed by more detailed commentary and analysis

extensive examples bring to life the principles discussed in the text
Diggory Bailey LLB, LLM
Barrister (Middle Temple)
Parliamentary Counsel (United Kingdom)
Luke Norbury MA (Cantab)
Barrister (Inner Temple)
Parliamentary Counsel (United Kingdom), former Legislative Counsel
(Northern Ireland)
Contributing Editors
Michael Anderson LLB, DipLP
Advocate
Parliamentary Counsel (Scotland), former Legislative Counsel (Northern
Ireland)
James George BA, DPhil (Oxon)
Solicitor
Legislative Counsel (Wales)
Consultant Editor
Professor David Feldman QC (Hon), MA DCL (Oxon), Hon LLD (Bristol),
FBA, FRSA
Rouse Ball Professor Emeritus of English Law, University of Cambridge
Fellow Emeritus in Law, Downing College, Cambridge