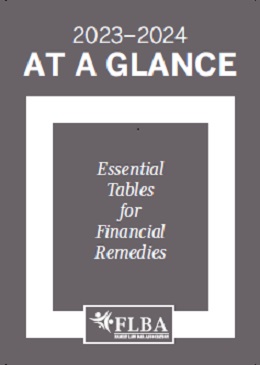 At a Glance - Essential Tables for Financial Remedies
Materials
Source Currency:
2023-2024
At A Glance is made up of vital facts and figures for all family practitioners and is used in court and negotiation at all levels. Tables in the title include Duxbury, Income tax and Gross Salary and net income calculations.
Updated annually with the latest rates, Budget changes, leading cases and essential rules.
New for 2023:
All Tables and other materials fully updated for use in 2023/24
Latest Budget changes incorporated for use in tax year 2023/24
The Galbraith Tables and corresponding commentary
New table on Child Maintenance - The Court
Copyright is held by the Family Law Bar Association. At A Glance is published by Class Legal Publishing who act as agent for the copyright holders.