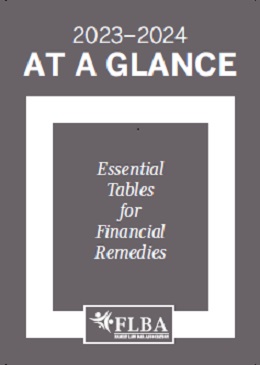 At a Glance - Essential Tables for Financial Remedies
Materials
Source Currency: 2020-2021

At A Glance has become 'the bible' for ancillary relief practitioners in its twenty plus years of success.

It consists of tables, cases and statutory materials which are fully updated each year. It is distributed by the Ministry of Justice to all family judges.

Copyright is held by the Family Law Bar Association. At A Glance is published by Class Legal Publishing who act as agent for the copyright holders.