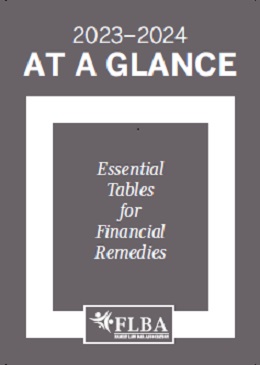 At a Glance - Essential Tables for Financial Remedies
Materials
Source Currency:
2021-2022
At A Glance
has become 'the bible' for financial remedy practitioners in its twenty nine years of success. It consists of tables, cases and statutory materials which are fully updated each year.
New for 2021:
Fully updated Financial Remedy Procedure.
Rewritten table on the FRC, accompanied by a helpful list giving details of all the FRC zone hubs. The table includes key extracts from the FRC Good Practice Protocol.
Rewritten notes on costs and bundles.
Leading cases has been updated, now containing over 1000 cases carefully allocated into 100 separate categories. The Editors have highlighted in bold their all-time top 20 financial remedy cases in the list.
All the numeric and narrative tables have been fully updated.
Copyright is held by the Family Law Bar Association. At A Glance is published by Class Legal Publishing who act as agent for the copyright holders.