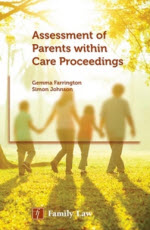 Assessment of Parents within Care Proceedings
This content is unique to LexisNexis
Commentary
This title considers the law and practice in relation to applications made within care proceedings for the assessment of children and families. The main focus is on applications for orders pursuant to Children Act 1989, s 38(6) but other types of assessment are also examined.

The book offers a practical guide to the making and opposing of assessment applications. It includes advice on the preparation and case management of such applications and a detailed and authoritative account of current guidance from the appellate courts on the circumstances in which assessments can/not be ordered. A separate chapter deals with the issue of the funding of such assessments, with particular reference to the position of the Legal Services Commission in respect of payment for assessments out of public funds.

In order to provide an essential context to the current state of law and practice, the book also includes discussion of the legislative and judicial history of s 38(6) and the policy considerations that lie behind the decision to allow assessments to take place, emphasising the tension between the wish of parents to have a fair assessment of their capacity to care for their children, set against the imperative need of children for the earliest possible decisions about their future.

Assessment of Parents within Care Proceedings is an invaluable guide to this topic for all child law practitioners including barristers, solicitors, local authorities and social workers.