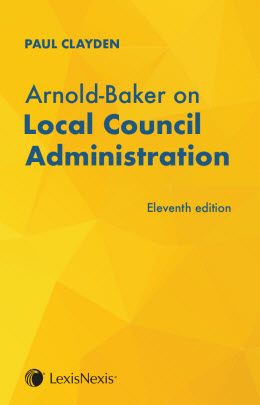 Arnold Baker Local Council Administration
This content is unique to LexisNexis
Commentary
CURRENCY:
Twelfth Edition, December 2020
Arnold-Baker on Local Council Administration
, often referred to as 'the bible' by its readers, is a complete statement of the law relating to parish and community councils, in the form of an extensive though succinct narrative accompanied by comprehensive statutory materials.
Now in its twelfth edition, it remains the key text for Parish Councils, Local Authorities, barristers, and solicitors practising in local government law and public and administrative law.
Roger Taylor, the author, is a consultant at Wellers Hedley Solicitors and heads its Parish, Town and Community Councils team. Many Councils use the team as an in-house legal department. Roger has over 40 years' experience in this complex area of the law, and advises across a wide range of issues affecting local Councils.
Of particular note for this edition is new content on:


The disqualification criteria for councillors and mayors


Further amendments to the Local Elections Rules


The new ICO guidance on GDPR for local councils