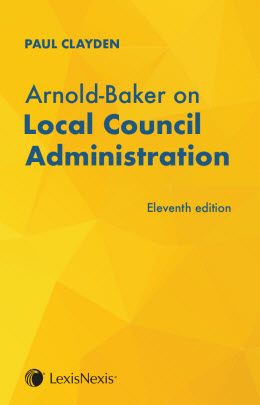 Arnold Baker Local Council Administration
This content is unique to LexisNexis
Commentary
CURRENCY: Eleventh Edition, September 2018

Arnold-Baker on Local Council Administration has long been established as the guide to this specialist field of local government law. Among local councillors it is often referred to as 'the bible'. It is a complete statement of the law relating to parish and community councils through an extensive, though succinct, narrative accompanied by relevant statutory materials.

It covers everything from parish and manorial history to the laws, both old and new, now governing local councils. All aspects are explored in a user-friendly style. It also includes appendices of relevant statutes, statutory instruments and an extensive list of useful contacts.

The 11th edition of this popular book has been comprehensively updated to cover the many changes to law and practice with direct application to local councils since the previous edition in 2016. New material covers recent legislation, including the Anti-social Behaviour, Crime and Policing Act 2014 (in relation to public spaces protections orders and the control of dogs), the General Data Protection Regulation 2016 (GDPR), and the Data Protection Act 2018. Particular note is made of the differences between England and Wales, as the divergence between the laws of the two countries continues to grow.

This is a key text for parish and community councils, local authorities and solicitors practising in local government and public/administrative law.

The author, Paul Clayden, is a solicitor and was formerly Chief Executive of the National Association of Local Councils. He is now a freelance consultant and author specialising in local government and environmental law. He has over 40 years' experience in advising parish and community councils and has been a council clerk. He is the author of a guide for local councillors and of several books on matters relevant to local councils, including allotments, parks and open spaces, common land, and village greens.

Charles Arnold-Baker (25 June 1918 – 6 June 2009) was a barrister of the Inner Temple who became Secretary of the National Association of Parish Councils (NAPC) in 1953. During his 26 years in the role, he oversaw the NAPC's transformation into the National Association of Local Councils, for which he was awarded the OBE. He served as a member of the European Committee of the International Union of Local Authorities (1966–1978), and was a Delegate to the European Local Government Assembly at Strasbourg (1960–78).

In 1975 Arnold-Baker on Local Council Administration replaced Parish Administration (also by Charles Arnold-Baker), and ever since 'the yellow book' has been an essential component of any local councillor's library.