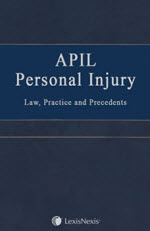 APIL Personal Injury
Commentary
SOURCE CURRENCY
Issue 63 December 2020


Issue 63 contains amendments to Divisions A, C and J as follows:

Division A (Law and Liability) – Section A10 (Sports Injury Claims).

Division C (Damages) – Section C1 (Principles).

Division J (Quantum Facts and Figures) – Section J2 (Special Damages Statistics), Section J3 (General Damages), Section J4 (Multipliers), Section J5 (Earnings and Expenses), Section J6 (State Benefits), Section J7 (Interest and Inflation), Section J8 (Taxation), Section J9 (Court Fees) and Section J10 (Calendars).