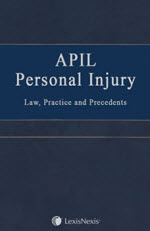 APIL Personal Injury: Law, Practice and Precedents
This content is unique to LexisNexis
Commentary
Designed and written by leading claimant lawyers, APIL Personal Injury: Law, Practice and Precedents, available in print or as part of LexisLibrary, is a comprehensive and practical reference work dealing with every aspect of personal injury practice. Combining authoritative commentary, expertly drafted precedents and other key materials, it is the ideal resource for all claimant lawyers.
Source Currency
Issue 72, May 2022
Update Information
Issue 72 contains amendments to Divisions A, B, F and J as follows:

Division A (Law and Liability)

Sections A0 (Coronavirus (COVID-19)) and A4 (Occupational Illness Claims).
Division B (Limitation)
Sections B3 (Accidents Covered by Other Statutes), B5 (When Does Time Start to Run?) and B6 (Getting Time Extended).
Division F (Running the Case)
Sections 14 (Part 36 Offers) and F21 (Group Litigation).
Division J (Quantum Facts and Figures (Andrew Wilson)
Section J1 (The Judicial College Guidelines).