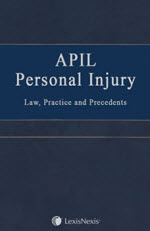 APIL Personal Injury
Commentary
SOURCE CURRENCY
Issue 62 (November 2020)


Issue 62 contains amendments to Divisions A, B, C, F and H as follows:

Division A (Law and Liability) – Section A5 (Occupiers' Liability), Section A7 (Psychological Injuries), Section A12 (Animals), Section A14 (Employment Law and Personal Injury Law) and Section A18 (Military Claims).

Division B (Limitation) – Section B1 (Limitation Act 1980: Three-year Limitation Period), Section B2 (Cases Where Limitation Period is Less Than Three Years) and Section B8 (Amendment of Parties after Issue).

Division C (Damages) – Section C13 (Periodical Payments).

Division F (Running the Case) – Section F19 (Pleadings).

Division H (Statutory Materials) – Updates to the Fatal Accidents Act 1976.