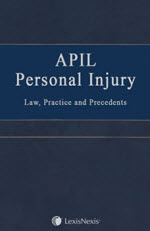 APIL Personal Injury
Commentary
SOURCE CURRENCY
Issue 64 March 2021
Issue 64
contains amendments to Divisions A, C, D, E and F as follows:
Division A (Law and Liability) – Section A0 (Coronavirus (COVID-19)).
Division C (Damages) – Section C4 (The 'Lost Years'), C12 (Provisional Damages), C14 (Interest), C15 (Personal Injury Trusts) and C16 (Recoupment of State Benefits).
Division D (Funding) – Section D1 (The Retainer), D3 (Conditional Fee Agreements) and D5A (Qualified One-Way Cost Shifting ('QOCS')).
Division E (Costs) – Section E4 (Hourly Rates), E5 (Principles of Costs Recovery), E6 (Estimates, Budgets and Caps), E7 (Fixed Recoverable Costs) and E8 (Payments on Account of Costs).
Division F (Running the Case) – Section F5A (Medical Records) and F21 (Group Litigation).