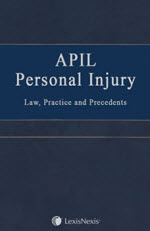 APIL Personal Injury
Commentary
SOURCE CURRENCY
Issue 61 (September 2020)


Issue 61 contains amendments to Divisions A, C and F as follows:

Division A (Law and Liability) – Section A6 (Personal Injuries on the Highway) and Section A16 (Defendants).

Division C (Damages) – Section C3 (Loss of Earnings), Section C7 (Private Health Care Costs) and Section C18 (Criminal Injuries Compensation Authority).

Division F (Running the Case) – Section F8 (Counsel), Section F9 (Pre-issue Settlement), Section F10 (Capacity and the Court of Protection), Section F13 (Interim Payments), Section F17 (Multi-track) and Section F21 (Group Litigation).