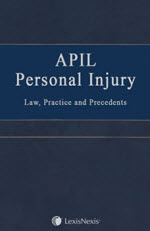 APIL Personal Injury: Law, Practice and Precedents
This content is unique to LexisNexis
Commentary
Designed and written by leading claimant lawyers, APIL Personal Injury: Law, Practice and Precedents, available in print or as part of LexisLibrary, is a comprehensive and practical reference work dealing with every aspect of personal injury practice. Combining authoritative commentary, expertly drafted precedents and other key materials, it is the ideal resource for all claimant lawyers.
Source Currency
Issue 83, November 2023
Update Information
Issue 83 contains amendments to Divisions A, C, F and J as follows: Division A Law and Liability - Section A10 (Sports Injury Claims), Section A13 (Children), Division C Damages - Section C7 (Private Health Care Costs), Section C12 (Provisional Damages), Section C13 (Periodical Payments), Division F Running the Case - Section F10 (Capacity and the Court of Protection), Section F15 (Small Claims), Division J Quantum Facts and Figures - Section J2 (Special Damages Statistics), Section J3 (General Damages), Section J5 (Earnings and Expenses), Section J6 (State Benefits), Section J7 (Interest and Inflation), Section J8 (Taxation), Section J9 (Court fees).