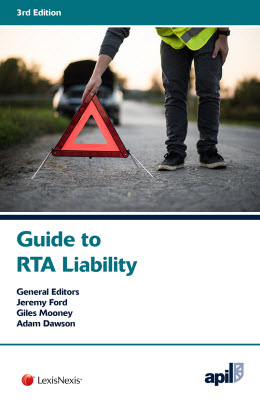 APIL Guide to RTA Liability
This content is unique to LexisNexis
Commentary
Source Guide Currency: 3rd Edition, November 2018

APIL Guide to RTA Liability, now in its third edition, is written by a team of specialist lawyers and provides detailed guidance on every aspect of this core area of PI practice. The work is broken down into 26 accessible chapters, each focusing on a particular aspect of RTA liability.

This new edition has been thoroughly updated and includes coverage of developments in law and practice, including:

• updates to all chapters focusing on new case law since the last edition;
• low value pre-action protocol for road traffic accidents;
• accident abroad – jurisdictional issues;
• new MIB Uninsured Drivers' Agreement 2015;
• insurance / MIB issues – new cases of Delaney and Vnuk.