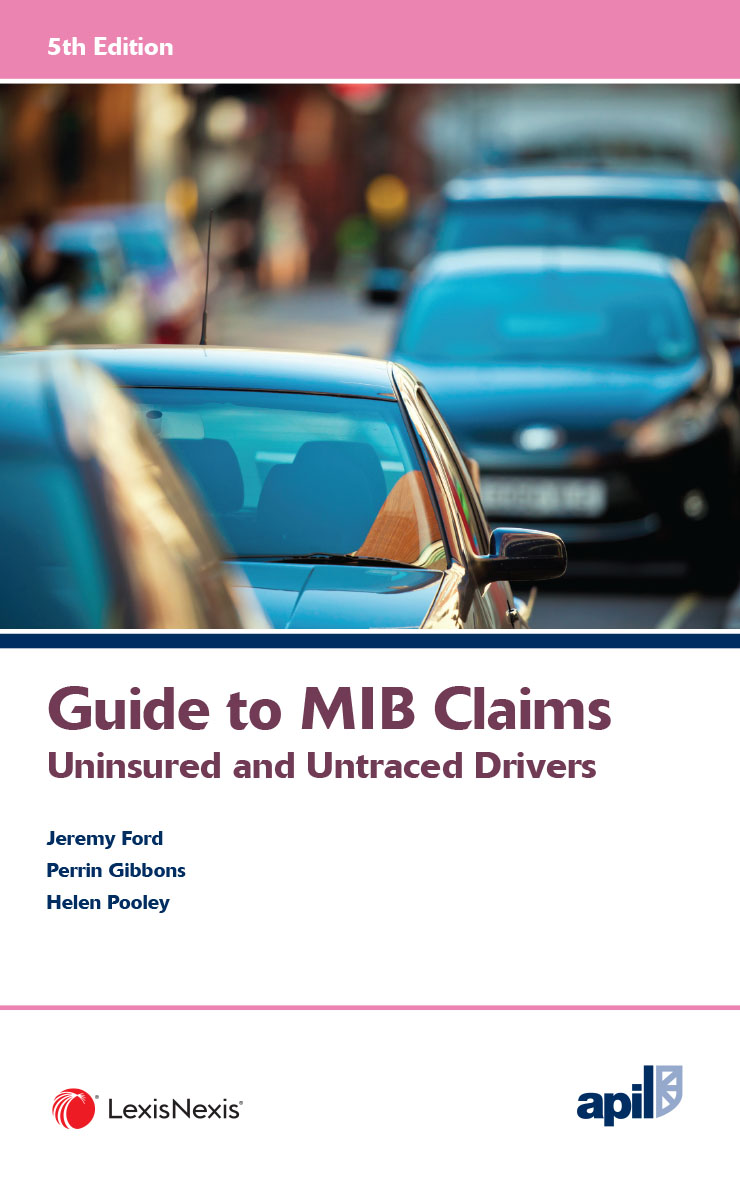 APIL Guide to MIB Claims: Uninsured and Untraced Drivers
This content is unique to LexisNexis
SOURCE CURRENCY
5th Edition, September 2023

The long-awaited fifth edition of the popular APIL Guide to MIB Claims provides the practical advice that all personal injury litigators handling RTA cases need to advise clients whose claims involve complex indemnity issues arising from section 151 of the Road Traffic Act 1988, or the MIB uninsured and untraced drivers' agreements. These cases have always been fraught with procedural difficulties and the technical nature of agreements has increased the risks of default by claimants and solicitors.

APIL Guide to MIB Claims clearly sets out the potential pitfalls when dealing with MIB claims and offers practical guidance to ensure that your clients' cases are handled effectively.

This edition has been revised and expanded to include coverage of:


the UK withdrawing from the EU and the status of the Motor Insurance Directive (Directive 2009/103/EC) and other 'retained EU law';


the EU Retained (Revocation and Reform) Bill;


the ending of the Vnuk requirement for insurance for vehicles on private land by the Motor Vehicle (Comprehensive Insurance) Act 2022;


the Motor Vehicle (Compulsory Insurance) (Miscellaneous Amendments) Regulations 2019, removing the ability for insurers to obtain a section 152 declaration post-accident;


the operation of the Green Card Scheme and the removal of the MIB's role in handling accidents abroad after Brexit;


the Untraced Drivers' Agreement 2017 (completely rewritten since the last edition);


the MIB's liability for accidents involving uninsured e-scooters; and


tactical contact ('TPAC') cases, the MIB liability to injured police drivers.



Comprehensive case law updates including:


the Supreme Court cases of R&S Pilling v UK Insurance Ltd and Cameron v Liverpool Victoria Insurance Co Ltd;


MIB v Lewis;


Roadpeace v (1) Secretary of State for Transport (2) MIB;


Sahin v Havard;


Colley v (1) Shuker (2) UK Insurance Limited (3) MIB (4) Secretary of State for Transport;


Brown v (1) Fisk (2) Soteria Insurance (3) MIB (4) Secretary of State for Transport; and


Greenaway v (1) Parrish (2) Covea (3) MIB.



In addition, the accompanying appendices include all relevant statutory materials (both domestic and European) and MIB documentation, as well as draft particulars of claim.

Contributors
| | |
| --- | --- |
| Jeremy Ford, Barrister, Deka Chambers, London | Author |
| Perrin Gibbons, Barrister, Deka Chambers, London | Author |
| Helen Pooley, Barrister, Deka Chambers, London | Author |