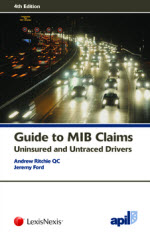 APIL Guide to MIB Claims: Uninsured and Untraced Drivers
SOURCE CURRENCY
4th Edition, March 2016

The long awaited fourth edition of the popular APIL Guide to MIB Claims provides the practical advice that all personal injury litigators handling RTA cases need to advise clients whose claims involve section 151 of the Road Traffic Act 1988, or the untraced and uninsured drivers agreements. These cases have always been fraught with procedural difficulties and the technical nature of agreements has increased the risks of default by claimants and solicitors.

APIL Guide to MIB Claims clearly sets out the potential pitfalls when dealing with MIB claims and offers practical guidance to ensure that your clients' cases are handled effectively.

This edition has been revised and expanded to include coverage of:


the Uninsured Drivers' Agreement 2015


latest supplements to the Untraced Drivers' Agreement 2003


the 6th Motor Insurance Directive


recent case-law such as Delaney v Secretary of State for Transport; Andrews v MIB; John Clarke v Phoebe Clarke and the MIB; Churchill v Wilkinson and Damijan Vnuk v Zavarovalnica Trigalev


Francovich claims


In addition the accompanying appendices include all relevant statutory materials (both domestic and European) and MIB documentation, as well as the author's own draft particulars of claim.