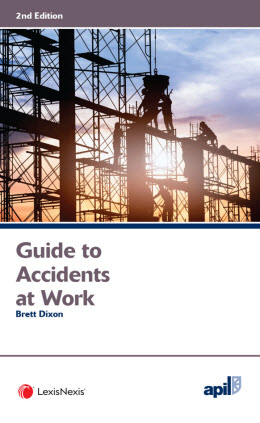 APIL Guide to Accidents at Work
This content is unique to LexisNexis
Commentary
CURRENCY Second Edition, October 2022
The work covers three distinction areas.
Part A concerns the general principles applicable to all cases focusing on negligence, statutory duties, causation and remoteness, with an emphasis on what these principles mean in practice.
Part B looks in detail at the statutory framework with special attention given to workplaces, work equipment, manual handling, working at height and construction.
Part C offers practical guidance on effective case preparation and presentation, providing invaluable know-how on investigation guidelines, evidence, and practice and procedure.
This new edition has been extensively revised and rewritten to include:
- Liability for workplace accidents post Enterprise and Regulatory Reform Act 2013
- Understanding how risk assessment works and can help you win your cases
- The Construction Design and Management Regulations 2015 and the updated HSE guidance on construction site accidents
- The continuing importance of health and safety regulations
- Understanding the concept of workers, the gig economy and the self-employed
- What now for health and safety in a post Brexit world
The
APIL Guide to Accidents at Work
is essential reading for all personal injury practitioners whose practice encompasses work-based injuries.