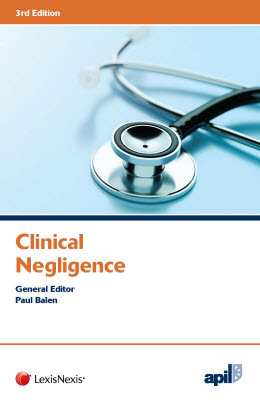 APIL Clinical Negligence
This content is unique to LexisNexis
Commentary
Source Currency: Third Edition: up to date to November 2018

APIL Clinical Negligence, written by a team of leading clinical negligence lawyers and other professionals, focuses on the key areas of clinical negligence including medical product and human rights claims and inquests. It combines practical know-how about conducting these claims with the latest thinking on new and developing areas of practice.

This new edition has been substantially revised in particular to take account of changes to :
• Data Protection
• Costs and funding
• ADR and the new NHSR mediation scheme
• Consent
• The discount rate

The result is a highly practical work, offering detailed guidance and expert legal analysis that will be essential reading for all active and potential clinical negligence lawyers and should be of interest to those medical practitioners interested in the role of the expert witness in these cases.