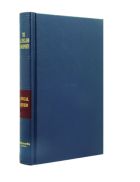 All England Annual Review
This content is unique to LexisNexis
Commentary
The All England Annual Review contains detailed analysis of significant decisions reported during the previous year. It is written by leading academic lawyers.

Reports from the following titles are analysed:

- All England Law Reports
- All England European Casss
- All England Commercial Cases
- Butterworths Company Law Cases
- Simon's Tax Cases
- Butterworths Medico-Legal Reports

The All England Annual Review was conceived with the busy practitioner and law student in mind. Its aim is to narrow the gap between academic legal theory and the reality as experienced by practitioners. For students wading through standard texts, this work provides a stimulating overview of the subject by debating cases still fresh in most minds. It consists of 25-30 chapters covering various aspects of the law.

.