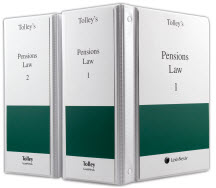 Tolley's Pensions Law Service
This content is unique to LexisNexis
Commentary
SOURCE CURRENCY
Issue 121, March 2020

UPDATE INFORMATION

Pensions Key Terms
The glossary of pensions key terms has been updated throughout.

B1 Establishing an Occupational Pension Scheme
The chapter has been updated for changes to HRMC rules on scheme registration.

G3 Pensions Finance – Buy-ins, Buy-outs, Swaps, Pension Funding Partnerships, Contingent Assets
Updates to the chapter include the coverage of: preparing a quotation request for a buy-in policy, agreeing the contract, and communications issues, the EMIR Refit Regulation, and employer-related investment with regard to pension funding partnerships.