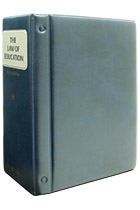 Law of Education
This content is unique to LexisNexis
Commentary
SOURCE CURRENCY
Issue 165, December 2019
UPDATE INFORMATION
Division B(W) Principal Welsh Assembly Acts and Measures Dealing with Education
The Public Services Ombudsman (Wales) Act 2019 has been inserted into this Division. The Act came into force on 23 July 2019, and replaces the similarly named 2005 Act which has accordingly been removed.
Division C Other Enactments of the UK Parliament Dealing with Education
A number of sections of the Offensive Weapons Act 2019 of relevance to the law of education as it applies to schools and further education colleges have been inserted into this Division. These relate to Knife Crime Prevention Orders. The Act has not yet been brought into force.
A review of this Division is underway. Those Acts revised or updated for this issue include, in particular —
School Sites Act 1841


Employment and Training Act 1973


Local Government Act 1974


Local Government (Miscellaneous Provisions Act 1976


Crime and Disorder Act 1998


Government of Wales Act 1998


Female Genital Mutilation Act 2003


Children Act 2004


Charities Act 2011
Division D Statutory Instruments Applying to England Only or to England and Wales
Division D has been generally updated, deleting revoked SIs and amending others. The following new SI is included in this issue:
The School Teachers' Pay and Conditions (England) Order 2019 (SI 2019/1267)
Division D(W) Statutory Instruments Applying Only to Wales
Division D(W) has been generally updated, deleting revoked SIs and amending others. The following new SI is included in this issue:
The School Teachers' Pay and Conditions (Wales) Order 2019 (SI 2019/1363 (W.236))
AUTHOR INFORMATION
As for Issue 165, December 2019