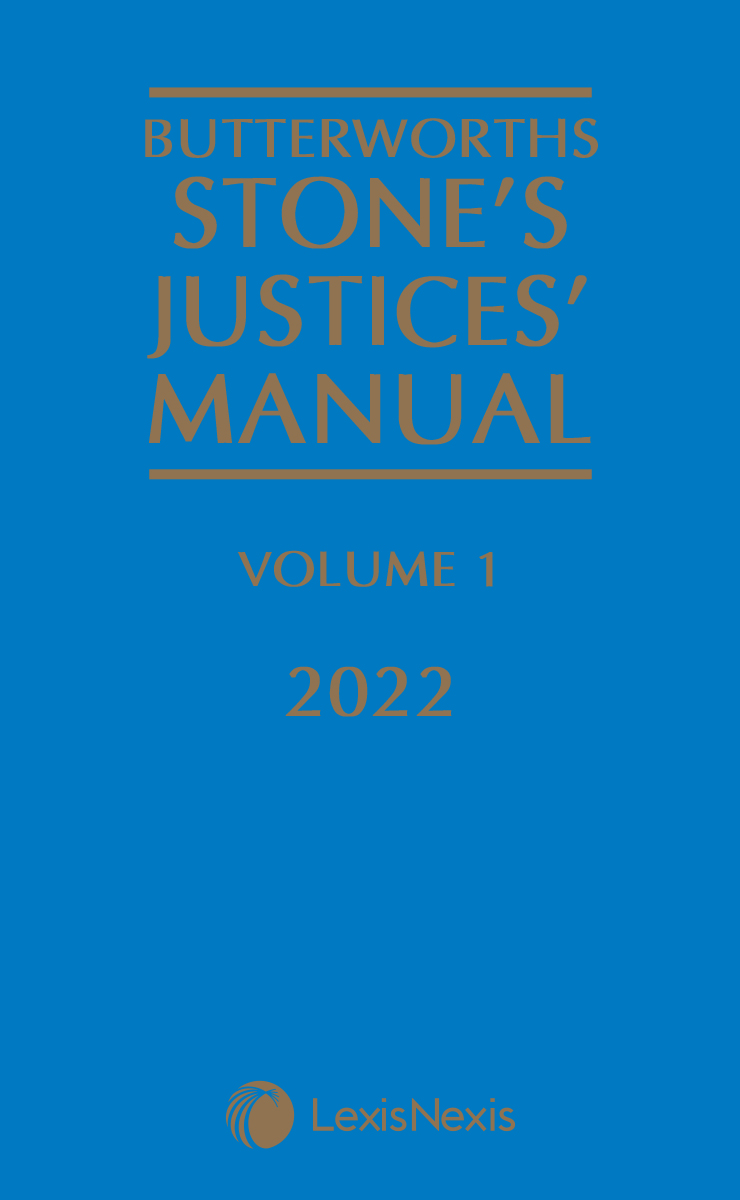 Stone's Justices' Manual
This content is unique to LexisNexis
Commentary
Stone's Justices' Manual provides the most reliable and current coverage of the legislative changes affecting magistrates' courts. The annually updated Manual provides comprehensive coverage of all new and amended legislation affecting the magistrates' courts and hundreds of new cases that set precedents or clarify
particular principles of law.

The Preface discusses by subject recent cases, legislative changes and general updates since the last edition. Stone's also contains a Forms and Precedents Chapter.

Additional Information:

SOURCE CURRENCY
151th Edition published 2019

UPDATE INFORMATION

There have been amendments made to the material contained in the Key Materials.

The Criminal Procedure Rules 2015 have been updated to take in amendments made by the Criminal Procedure (Amendment No 2) Rules 2019, SI 2019/1119.

The Magistrates' Court Sentencing Guidelines have been updated to include all the new guidelines issued in 2019.

There has been the usual updating of Statutes and Statutory Instruments and discussion of new case material throughout.
Contributors
| | |
| --- | --- |
| A J Turner , Barrister, Chambers of Adrian Turner, Eastbourne | Chief editor |
| A P Carr , District Judge (Magistrates' Courts) | Chief editor |
| Amanda Kelly | Author |
| Nick Wattam | Author |
| R Kwame Inyundo | Author |