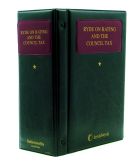 Ryde on Rating and the Council Tax
This content is unique to LexisNexis
Commentary
Ryde on Rating and the Council Tax is the most authoritative work on rating available, offering a comprehensive collection of the relevant statutory materials and the latest practice notes for both non-domestic rates and council tax and is accompanied by detailed commentary.

This well-established work covers everything from recovery of rates and council taxes to exemptions and relief and includes valuable chapters on appeals and insolvency. There is full coverage of all statutes, statutory instruments, rules and orders as well as detailed analysis of the relevant case law.

SOURCE CURRENCY
Issue 82, July 2019

UPDATE INFORMATION

Binder 1

Division B: The Ratepayer
The following chapters have been updated:

Chapter 2: Occupiers
Chapter 3: Owners

Division F: Rating Lists
The following chapters have been updated:

Chapter 1: Local and Central Non-domestic Rating Lists
Chapter 2: Appeals


Binder 2
The following Statutory Instruments have been updated:

Division J:

Central Rating List (England) Regulations 2005
Tribunal Procedure (Upper Tribunal) (Lands Chamber) Rules 2010
Updated Tables and Index are included in this issue.
Contributors
| | |
| --- | --- |
| Jenny Wigley , MA (Cantab), of Middle Temple, Barrister | Editor |
| Jeremy Pike , LLB LLM (Lon), of Middle Temple | Editor |
| Richard Fisher , LLB (Lon), BCL (Oxon), of Lincoln's Inn, Barrister | Editor |
| Richard Glover , BA (Cantab), of Inner Temple, QC | Editor |