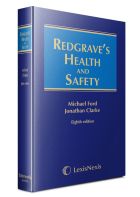 Redgrave's Health and Safety
This content is unique to LexisNexis
Commentary
The full text of Redgrave's Health and Safety. Redgrave's offers expert guidance on all health and safety law and practice and sets out key legislation in the field of health and safety at work, including commentary on significant Acts and Regulations; reference to both English and Scottish cases, with concise commentaries on the case law; and a thorough source of fully annotated legal materials with additional commentary from the general editor.
SOURCE CURRENCY
9th edition September 2016
Statutory material updated monthly
UPDATE INFORMATION
Now in its Ninth edition, Redgrave is fully updated to contain the numerous legal developments in the health and safety field, both in the form of national legislation and case law. Every practitioner serious about health and safety relies on Redgrave's Health and Safety for expert guidance on the subject.
Fully annotated with helpful guidance notes and commentaries from the editors, this leading title saves you valuable research time and helps you make informed decisions by taking you straight to the information you need. Its logical and coherent structure and user-friendly format makes it accessible and easy to use - even in court.
Particular changes in this edition:
Considers key developments in existing regulations (eg the reinterpretation of 'foreseeable' in reg 4 of PUWER)


New legislation such as the CDM Regulations, the Control of Major Accident Hazards (Amendment) Regulations and many more


Demonstrates the continued importance of the guidance of health and safety legislation in civil as well as criminal matters despite the amendment of the Health and Safety at Work Act 1974, s 47


Considers alternative routes to civil liability and other legal remedies