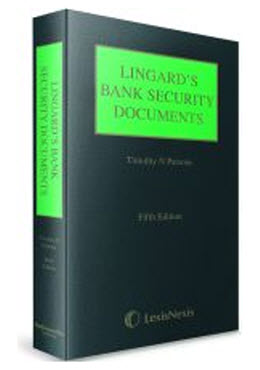 Lingard's Bank Security Documents Precedents
This content is unique to LexisNexis
Now in its sixth edition, Lingard is the leading textbook on bank security documents. Widely cited, this is a core resource for both banking lawyers and restructuring and insolvency lawyers, in private practice or in-house, bankers dealing with security documents or recovery situations and insolvency practitioners. It covers all aspects of the subject matter in detail, including chapters on guarantees and third-party charges, facility letters, the debenture, fixed and floating charges and covenants, and covers security documents for land, shares, life policies, contracts, goods and money.

The sixth edition is fully revised and updated to take account of all the latest developments, including the Supreme Court decisions in Eurosail, Re Nortel and Re Kaupthing Singer & Friedlander and includes detailed discussion of the new company charges registration regime introduced by the Companies Act 2006 (Amendment of Part 25) Regulations 2013.

The precedents have been fully updated since the last edition.