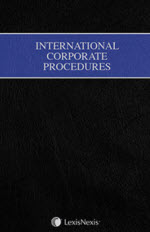 International Corporate Procedures
Commentary
Incorporating Update 108 - November 2019
:
Note to Customers
You may notice some changes to the look and numbering system of the pages of your latest looseleaf release, and the issue may be larger than an average update. We are in the process of standardising the look and feel of Jordan Publishing titles to align with other publications in the LexisNexis portfolio and will be releasing larger chunks of content until the entire looseleaf has been published in this new format. Rest assured, issues will remain comprehensive and up to date during this standardisation process and the cost of any increase in extent as a result of the transition will not be passed on to you.
Issue 108 of
International Corporate Procedures
reviews five jurisdictions.
The contents of this release include:


Cyprus by Chrysses Demetriades & Co Law Office, Limassol: Parts I, II and III.


Israel by Gil Raveh of Raveh Haber and Co Advocates, Ramat Gan: Part III.


Liechtenstein by Christian Verling, CREA Trust, Vaduz: Part III.


Mexico by Stefano Amato and Carlo Cannizzo, Cannizzo, Ortiz y Asociados, SC, México City and Ricardo Quibrera Saldaña, ECOVIS Quibrera Saldaña, México City: Parts I–IV.


Taiwan by James Chen, Jason Chou and Josephine Peng, Lee and Li, Taipei: Parts I and II.



Issue 108 states the law as at 1 August 2019, except where otherwise indicated.
About International Corporate Procedures
International Corporate Procedures is a country-by-country encyclopaedia of business regulations in over 55 jurisdictions, including all the major industrial, financial and offshore centres worldwide. It draws together the factual and procedural information necessary to make informed decisions about foreign forms of business enterprise.
Before any decision can be made to open an overseas office, set up a cross border joint venture or acquire businesses overseas, companies and their advisers must have a firm grasp of the structure of business regulation in the target territory. Yet finding up-to-date and reliable information of this kind can involve a great deal of time, effort and money, especially if you do not have an office or agent in the territory. All of this effort may be wasted if the legal and taxation regime is found to be wholly unsuitable.

International Corporate Procedures performs this task for you.
International Corporate Procedures provides directly comparable information in a standardised format set out country by country covering over 55 jurisdictions...
Detailed information on how to form a company including the timescales, costs and documentation required. In addition specific rules relating to partnerships, branches and joint ventures are covered for each jurisdiction.
Key company law points on liabilities of directors, D&O insurance, local shareholding requirements, classes of shares permitted, rules for shareholder meetings, registration of charges, liabilities for subsidiary debts, fees for permits and licences, rules on borrowing and charging of assets and M&A controls.
The different types of entities including partnerships, branches and joint ventures
Sets out the accounting obligations in relation to record keeping and frequency of reporting. It examines model forms of accounts relevant to that jurisdiction highlighting in particular contents of the balance sheet and profit and loss account, additional disclosures, directors' reports and the auditor's report.
Sets out the tax position in each country includes corporate tax rates, offsetting losses, tax rate on dividends, taxation of groups, double taxation arrangements and incentive schemes.