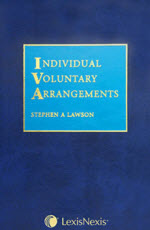 Individual Voluntary Arrangements
Commentary
SOURCE CURRENCY
Incorporating Update 51 (November 2019)
Issue 51 considers the following:


The long reach of the decision in Discovery (Northampton) Ltd v (1) Debenhams Retail Ltd (2) Tucker (3) Boyle (4) Glas Trust Corpn Ltd [2019] EWHC 2441 (Ch), referred to in the text at A5[42N], A6[10], A6[11], A13[34A], A13[57] and A13[96A].
The draft legislation in respect of the new provisions granting HMRC secondary preferential status as a creditor at A4[60] and A21[2].
The decision in Rowland v The Commissioners for Her Majesty's Revenue and Customs [2019] UKFTT 0544 (TC), which held that an IVA does not automatically bind in HMRC in respect of future tax arising during the duration of the IVA, at A5[42N] and A21[4].
Following on from the decision on material irregularity on the grounds of lack of good faith in Gertner v (1) CFL Finance Ltd (2) Rubin [2018] EWCA Civ 1781, [2018] BPIR 1605, the hearing of the resumed bankruptcy petition, which the debtor sought to side-step by the presentation of a second proposal, in CFL Finance Ltd v (1) Bass (2) Khalastchi (3) Gertner (Laser Trust as opposing creditor) [2019] EWHC 1839 (Ch) at A8[20] and A13[78].
The decision in Promontoria (Chestnut) Ltd v (1) Bell (2) Bell [2019] EWHC 1581 (Ch), [2019] BPIR 1241 as to whether 'security in respect of the debt' could include security held in respect of another party's debt at A11[50].
Another decision on the effect of a voluntary arrangement on the enforcement of an adjudication in Indigo Projects London Ltd v Razin [2019] EWHC 1205 (TCC) at A12[11].