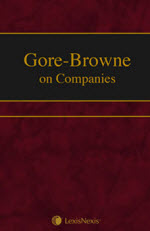 Gore-Browne on Companies
Commentary
SOURCE CURRENCY
Issue 153, December 2019

Note to customers
You may notice some changes to the look and numbering system of the pages of your latest looseleaf release, and the issue may be larger than an average update. We are in the process of standardising the look and feel of Jordan Publishing titles to align with other publications in the LexisNexis portfolio and will be releasing larger chunks of content until the entire looseleaf has been published in this new format. Rest assured, issues will remain comprehensive and up to date during this standardisation process and the cost of any increase in extent as a result of the transition will not be passed on to you.

Issue 153 includes amendments to eight chapters, namely Chapter 12 (Meetings), Chapter 13 (Directors – Appointment, Removal and Vacation), Chapter 14 (Management of a Company), Chapter 15 (Directors' Duties), 18 (Derivative and Direct Shareholder Claims), Chapter 20A (Disqualification), Chapter 34 (Confirmation Statements and Registers of Persons with Significant Control) and Chapter 57 (Voluntary Liquidation: Procedure).