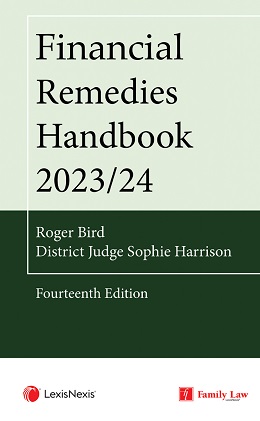 Financial Remedies Handbook
Commentary
CURRENCY: Twelfth Edition, April 2019

The Financial Remedies Handbook (formerly entitled the Ancillary Relief Handbook) has established itself as a first resort for thousands of matrimonial lawyers. By combining a clear explanation of the applicable legal principles with straightforward advice on practice and procedure, this is the essential reference work for busy family lawyers, family mediators, accountants and financial advisers.

This new edition has been thoroughly revised throughout and contains detailed analysis and practical guidance on all recent case law and procedural developments.

Key topics include:

• Transfer of Property Orders and Housing Needs
• Periodical Payments
• Pensions
• Insolvency and Rights of Creditors
• Enforcement
• Appeals and Setting Aside

An Appendix also contains relevant legislative provisions.

Reviews of previous editions

"the compact Swiss Army knife for sorting out matrimonial finance on divorce ... Don't go to your client or to court without it."
FAMILY LAW

"user friendly... an authoritative and concise exposition... with plenty of supporting material, creating a readable and practical reference book"
ASSOCIATION OF LAWYERS FOR CHILDREN


Contributors:

Roger Bird, Former District Judge;
District Judge Sophie Harrison, Reading County Court and Family Court Hearing Centre.