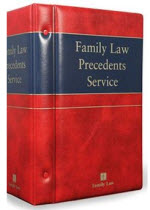 Family Law Precedents Service
Commentary
Update 45 (October 2019) includes:

We have pleasure in enclosing Issue 45 to Family Law Precedents Service. This issue contains amendments to Divisions C (Financial Orders); D (Miscellaneous Applications); E (Children); F (Inheritance); G (Injunctions); I (Cohabitation); K (Enforcement); L (Appeals); M (Costs); and N (Protected Parties).

In addition, the following new precedents have been added:
I1B Cancellation of cohabitation contract.
L3A Family Court: Appeal from judge of circuit judge level to a judge of the High Court.
N51 Repatriation of P out of the jurisdiction.