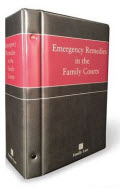 Emergency Remedies in the Family Courts
Commentary
Currency: Issue 48 (September 2019)
In this issue all the divisions have been revised to deal simply with current law practice and procedural rules and practice directions. The issue also refers to all relevant cases decided since the last issue. In particular:


Division A. This division consolidates the general principles applicable to both private and public laws in the respective sections. The troublesome issues of parental alienation considered in the recent cases of PP v MS and Essex CC [2019] EWHC 768 (Fam) and Re R (Child: Termination of Contact) [2019] EWHC 132 (Fam) and criteria that apply and the procedure to follow when seeking permission to make an application where an order under ChA 1989, s 91(14) is in existence, referred to in Re P & N (s 91(14): application for permission to apply: appeal) [2019] EWHC 421 (Fam), are fully covered.


The public law section deals specifically with recent cases on summary dismissal/disposal of care proceedings and the duty to ensure that a fair hearing takes place.


The secure accommodation section sets out in detail when the court will exercise its inherent jurisdiction and when the local authority cannot invoke this jurisdiction to deprive a person under the age of 18 of his liberty having regard to the decision in A City Council v KS and Others [2019] EWHC 1384 (Fam).


Division D. This division provides some guidance on the impact of Brexit without a deal and sets out links where further guidance may be obtained. It also deals with the procedure to follow when the need arises to communicate with court or authorities of foreign jurisdictions through the Head of International Family Justice Office. It also deals with issues in relation to when an unlawful removal and retention arises having regard to recent decisions.


Division E. This refers in particular to the very recent decision of Re M (A Child) [2019] 3 September currently only reported at WLUK 7, highlighting the fatal errors of not complying with the procedural requirements that apply in committal proceedings.


Division I. This division on appeals has been completely overhauled and now provides two separate sections: (1) the procedure for all appeals within the Family Courts to which the FPR 2010 apply; and (2) the procedure for appeals to the Court of Appeal where the CPR 1998 apply.