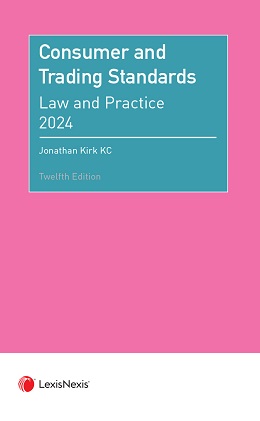 Consumer and Trading Standards Law and Practice 2019
Commentary
CURRENCY: 7th Edition (November 2018)


Consumer and Trading Standards: Law and Practice 2019 is an authoritative and comprehensive guide for everyone involved in consumer and trading standards law.
This book covers the full range of the work undertaken by consumer protection lawyers and trading standards officers in local authorities.
This user-friendly text provides a clear and exhaustive analysis of the law including case law and its application, wording of the statutory provision, plus expert commentary and analysis of the practical issues.
This edition has been fully updated and includes:


The Information chapter has been completely revamped to incorporate the changes made by the EU General Data Protection Regulations and the Data Protection Act 2018


The Travel chapter has been substantially updated to incorporate the Package Travel and Linked Arrangements Regulations 2018


There has been a complete review of the entire text following the European Union (Withdrawal) Act 2018 and the implications of Brexit


Unfair Commercial Practices have been updated to reflect major CJEU cases on article 3.4 (Dyson v BHS Appliances); and maximum harmonisation (Bankia SA v Mari Marion)


There has been a full update on metrology and hallmarking with extended commentary on public house beer measures


New commentary on ticket re-selling and estate agency in the Unfair Trading chapter


Unfair contract terms including new domestic and European case law


Consumer and Trading Standards: Law and Practice 2019 covers the law in England, Scotland, Wales and Northern Ireland.