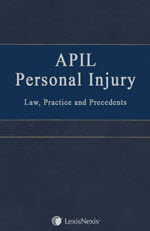 APIL Personal Injury
Commentary
SOURCE CURRENCY
Issue 54 (July 2019) includes:

Note to Customers

You may notice some changes to the look and numbering system of the pages of your latest looseleaf release, and the issue may be larger than an average update. We are in the process of standardising the look and feel of Jordan Publishing titles to align with other publications in the LexisNexis portfolio and will be releasing larger chunks of content until the entire looseleaf has been published in this new format. Rest assured, issues will remain comprehensive and up to date during this standardisation process and the cost of any increase in extent as a result of the transition will not be passed on to you.

Issue 54 contains amendments to Divisions A, C, D, E, F and H as follows:

Division A (Law and Liability) — Section A4 (Occupational Illness Claims) has undergone a substantial review and has been released in full.

Division C (Damages) — Section C3 (Loss of Earnings) and Section C17 (Inquests).

Division D (Funding) — Section D3 (Conditional Fee Agreements) and Section D5 (After the Event Insurance).

Division E (Costs) — Section E6 (Estimates, Budgets and Caps) and Section E7 (Fixed Recoverable Costs).

Division F (Running the Case) — Section F7 (Expert Evidence) and Section F10 (Capacity and the Court of Protection).

Division H (Statutory Materials) — takes account of updates to the Damages Act 1996.